Call for applications!
Fellowship period: flexible, November 2022 – November 2023
Stipend: Hourly wage of $35/hour up to a total of $20,000. Additional $5,000 for programming.
Deadline: Application due by 5:00 p.m. EST on October 18, 2022 through the online form.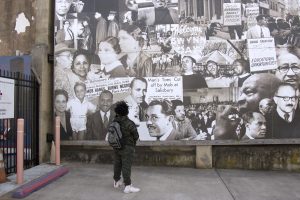 The Tabb Center invites applications for its Public Humanities Fellows program. Public Humanities Fellows are non-institutionally affiliated organizers, artists, cultural workers, public historians, and knowledge-creators who mobilize materials from the Sheridan Libraries' rare book, manuscript, and archival collections to strengthen and support their existing community-based work. Fellows should live or work in Baltimore.
Fellows should either (1) creatively reinterpret or (2) add to the Sheridan Libraries' collections, which span 5,000 years of unique objects and texts, from ancient cuneiform tablets and Egyptian papyri to 20th-century African American photography, U.S. suffrage movement records, and LGBTQ print culture materials. Fellows will create new perspectives on these collections by interpreting them in transformative ways. We are especially interested in applicants whose projects imaginatively address issues of racial, gender, and sexual justice.
Examples of potential projects:
An oral history fellow might record and archive interviews about Baltimore's civil rights movement and present them to the public via exhibitions or listening parties.
An artist in residence might interpret our LGBTQ print culture collections via site-specific installations, virtual reality experiments, or interactive performances.
Baltimore residents who do social change work might research the history of the issues they organize around and use archival materials to develop community workshops.
Fellows might activate the George Peabody Library by staging public talks, concerts, or events that interpret the history of the historic space.
While the Sheridan Libraries have collected a wide array of materials related to racial, gender, and sexual justice, many collections, especially those housed at our historic libraries, were acquired by Baltimore's white male elite starting in the late 1800s and reflect their tastes and prejudices. These materials call for a reading "against the grain"—in other words, interpreting them against the interests of their original authors. One example of this strategy is Fred Wilson's "Mining the Museum," which creatively interpreted the collections of the Maryland Historical Society by highlighting absences and using juxtaposition, redirection, and irony.
Stipend:
The fellowship offers an hourly wage of $35 per hour up to a total of $20,000 in a 12-month period. (For example, a full-time 3-month fellowship, a part-time 12-month fellowship, or any other permutation.) Candidates will submit a timeline and budget as part of their application. The stipend will be paid in monthly installments over duration the of the project. This fellowship does not offer travel compensation, health insurance, or housing subsidy.
Requirements:
This fellowship is intended for independent artists, curators, and organizers. It is not open to faculty or students.
The selected fellows should be willing to work with a videographer who will create a video that documents their research and experience to share with a public audience via the Tabb Center website.
Fellows are expected to provide at least one presentation about their project to local audiences during the course of their fellowship.
Eligible repositories include University Archives, Special Collections, and  The George Peabody Library. Collections are searchable via the library catalog and ArchivesSpace.
Timeline:
Applications due October 18, 2022
Fellows notified of decisions by October 31, 2022
Start date as early as November 1, 2022
Fellowship must be completed no later than November 1, 2023
Questions? 
=====================================================================================================================
Below is a sampling of collections at the Sheridan Libraries and University Museums. Additional archival materials can be found by searching ArchivesSpace; rare books and periodicals can be found in Catalyst.
A selection of manuscript and archive collections at the Sheridan Libraries and University Museums.
The rare book collection (at the Eisenhower, Garrett, and Peabody Libraries) contains more than 400,000 volumes and is strongest in the humanities and social sciences. It includes medieval and Renaissance manuscript books, the Machen collection of incunabula (books printed before 1501), and fine printed books.
William Worthy (July 7, 1921 – May 4, 2014) was an African-American journalist, civil rights activist, and frequent critic of the United States. The collection includes the following topics and genres: correspondence, biographical information, writings, newspaper clippings, advocacy, teaching, travel (specifically Cuba, the USSR, China and Iran), notes, files, and printed matter.
Housing Our Story: Towards Archival Justice for Black Baltimore oral history collection
This collection consists of twenty-two oral history interviews conducted in 2018 as part of a project titled Housing Our Story: Towards Archival Justice for Black Baltimore.
John Clark Mayden Photograph Collection
This collection contains 100 large black-and-white photographic prints made from film negatives by the Baltimore photographer John Clark Mayden, showing scenes of everyday life in Black Baltimore. Please contact special collections to request the collection.
Historic Collection at the George Peabody Library
More than 300,000 volumes largely from the 18th and 19th centuries. Notable collection strengths are archaeology, British art and architecture, British and American history, biography, English and American literature, Romance languages and literature, Greek and Latin classics, history of science, geography, and exploration and travel.
The Baltimore Civil Rights History Project
The Baltimore Civil Rights History Project was primarily a project to record the oral histories of participants in the Baltimore civil rights movement. The project was overseen by Francois Furstenberg when he was a graduate student at Johns Hopkins University. The collection primarily features oral histories, recorded in 1999 and 2000, conducted with Baltimore civil rights movement participants.
Baltimore Queer Oral History Collection
A growing collection of LGBTQ oral history recordings and transcripts with a focus on queer of color histories.
The Roland Park Company papers
Document the development of local neighborhoods Roland Park, Guilford, Homeland, and Northwood, as well as other communities in the United States.
Michael Makarovich oral histories
This collection consists of oral history interviews and printed materials collected primarily in the 1990s by Michael Makarovich, who researched the evolution of gay bars in Baltimore, Maryland.