Experience live music and other performing arts in Baltimore's "Cathedral of Books."
Join us for up-close, unforgettable experiences with musicians and performance artists who are thinking outside the box.
In the Stacks offers an informal, dynamic way for audiences to engage with music and performance art. Throughout the year, this concert series activates Baltimore's iconic George Peabody Library—a glorious space with five tiers of cast-iron balconies that soar up to a latticed spotlight—with art, music, dance, film, drama, and more.
Sign up for the Sheridan Libraries mailing list to learn of upcoming concerts and other events.
Subscribe
About the Series
In the Stacks is curated by Sam Bessen. Sam is the Eleanor and Lester Levy Family Curator of Sheet Music and Popular Culture at the Sheridan Libraries.
A French horn player with an MM degree from the Peabody Conservatory, Sam began organizing classical concerts in 2017 with a group of fellow musicians who wanted to bring amazing music to an amazing place. They designed what they hoped was an engaging, interesting, and diverse program and set the stage in the George Peabody Library, one of the most beautiful libraries in the world. When that first performance had a line out the door and around the block, Sam knew he was on to something and ten performances followed over the next three years.
After a hiatus due to the pandemic, the In the Stacks concert series returned in fall 2023 under the auspices of the Sheridan Libraries Department of Special Collections.
Make the arts accessible
All performances are free and open to the public, with an optional donation at the door. Taking breaks between pieces, we share insights into the history and meaning behind the music so everyone can connect and engage.
Diverse Programming
While the great classical composers—Mozart, Beethoven, Bach—were indeed great, we also seek out amazing music and art by living artists and artists from underrepresented communities.
Collaborate
Our performances bring together local musicians, artists, and other creative people for unique projects and collaborations crossing all artistic media.
Making Classical Music Relevant
Recognized by Baltimore magazine for making classical music "accessible—and relevant—in the 21st century," In the Stacks is a performing arts series that draws inspiration from the architecture, history, and rare book collections of the George Peabody Library.
Read article in Baltimore Magazine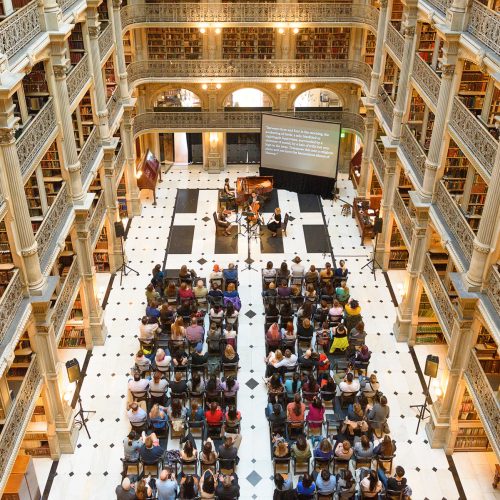 This concert was a magical experience. Set in the most beautiful library, one can almost smell the history tucked high into the shelves. An absolute must-see.